Cash For Houses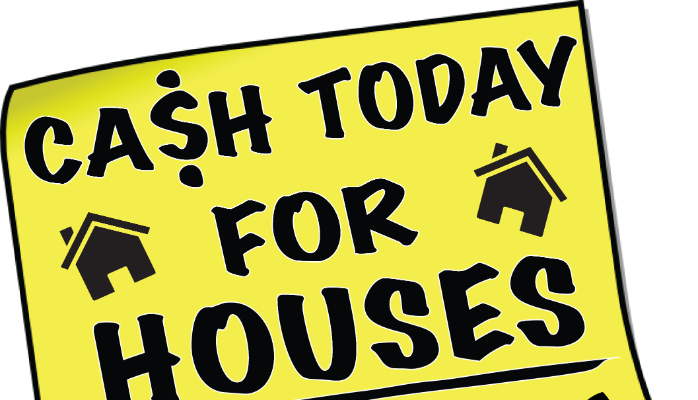 We pay cash for houses so we close fast and you pay no closing costs.
We Pay Cash for Houses: Are These Ads for Real?
We have all wondered about the We Buy HousesforCashguys. You've probably seen the "We Pay CashForHouses"or "We Buy Homes" signs nailed to telephone poles and stuck on barbed wire fences along the freeway. Maybe you've received a flyer in the mail that promises investors will buy your house-- in any condition -- and forall cash. A smart person might wonder what's the catch? Because a smart person would figure it sounds too easy and too good to be true.
The cash-paying buyers often advertise the types of situations they are searching forin hopes that you will call them.
Generally, these companies will point out that you will pay no real estate commissions but most of the time, sellers net more by hiring a listing agent so only sellers that need to sell fast should use a cash-for-houses company. They don't charge fees because they typically process the sales in-houseinstead of hiring an outside service, and they pay fortheir own title policies -- or even skip title insurance . The strategy used by cash-for-homes companies is to multiply the estimated retail value of the home by 70% to 80%. To determine your if it makes sense for you: Your offer will likely be less than 80% of your home's market value.
Soome buyers take title "subject to" your existing loans , meaning they take over your mortgage payments . You are still on the hook forthat loan until it is paid off. NOT-US- We pay cash for the house and pay off all the liens so you have no conection to the house.
First, realize that whether you sell to a fast-cashbuyer or a conventional buyer, you will receive cash either way. The difference is a conventional buyer will probably pay more, and the conventional buyer will probably take out financing that will pay off your existing mortgages.
The bottom line is: do you need to sell your home fast? If yes then is it worth it to sell your house to a cash-for-houses company? Try multiplying what you think your home is worth by 10%. Would you pay that to sell your house fast? This is after all the expenses don't subtract what you think you might save in closing costs.
Cash For Houses

Anchor Realty will pay Cash for your house.

My Homes value

We pay for your house with cash.

Home Investor Company

We've been buying houses for 15 years.

We buy any kind of real estate

We will buy any kind of domicile or commercial building.

We buy land.

We will buy any kind of real estate.

No Mortgage

We don't need a mortgage because we pay cash.

Ugly Houses

We buy good, bad and ugly houses.

House buying company

We pay good money for houses.

Payments and Notes

We have currency on hand to pay for your home.

Cash For Houses

We pay cash for houses. We pay cash so there is no mortgage.

We buy apartments and condos.

We will pay cash for apartments and multi-family property.

Mansions to Condos

Proceeds, profits, proceeds and remuneration to be paid in Cash.

NO FEE House Buying Company in Albuquerque.

One time payment of Cash!!!

No Mortgage or Allowance

Our compensation for your Home.

Domicile, Shack, Dwelling, Building Or Box

Cash or check payment for your property.

Get a lot of money for your lot

We Buy Lots and land, Farms and Houses, Any kind of real estate we will pay cash for.

Cash For Houses in 7 Days

We pay cash in 7 days.

Houses bought fast.

Anchor Realty can Buy your House with Cash . Call 341-3511

Fast Home Buyer

We can buy your house quickly.

Rental Homes Bought

Cash for Property of any kind!

Fastest way to Sell Your House

We are a reliable cash home buyer.

Big Bucks For Big Houses

We buy any kind of house.

Cash For Homes

Albuquerque Home Buyer.

Cash House Sale

We Fund houses With Cash.

All Cash home Sales.

I Buy Houses For Cash I Buy Houses
Anchor Realty, 341-3511.